This snake is the suspect - because of here i am stacked in the Philippines.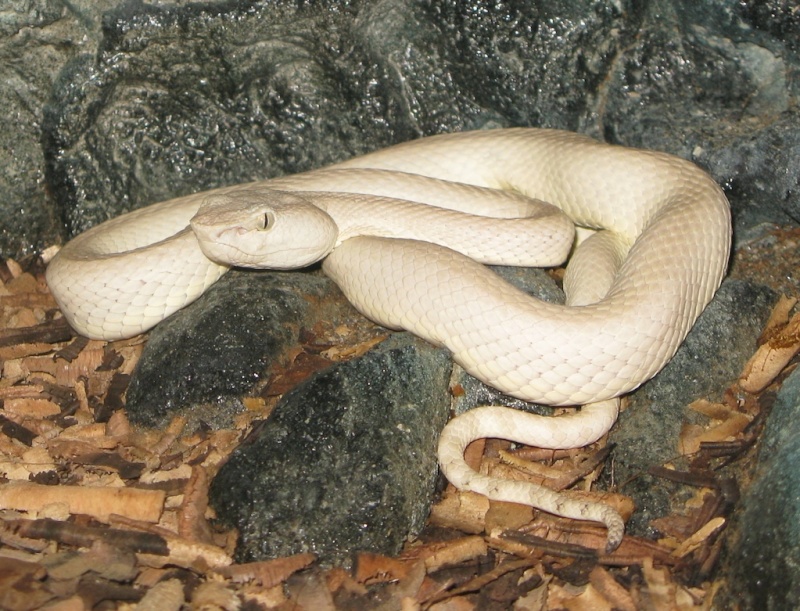 Parias mcgregori
, high white female (some collectors pay for snakes like this more than 2500 USD!)
years back, once i first saw this beautiful species, i was directly in love with them. finding out, how endangered they already are i was forced to do somethings! i simply could not watch them die out without even trying my best to safe them.
well, today i proudly can announce; for this time,
Parias mcgregori
is safe and the population is slowly but surly raising!
i have done such tremendous efforts to safe them, that i could wright a whole book about it. today, a shorter story for you need to be enough for the moment. i wright this story, to proof, even single persons can change things - if they only have the will to do it! i also writhing this to encourage every single one to try their best to make a change, and i will tell this story to you - to let you be part of this amazing cooperation, between a single foreigner - arriving on a small island - and their local inhabitants, their local government. an cooperation who would soon to become one of the most successful species survival actions ever done here in the Philippines. the story is not only about the snakes, but the peoples, the peoples from Batanes, the peoples from the national wildlife agencies and a story about an german snake enthusiast, yes -someone like you!
How it begun:
it was on a bright september morning 2002 as i walked, into an philippine petstore, somewhere in manila, looking for fish for the aquarium i build in a german dive resort in Sabang Beach, Oriental Mindoro, Philippines. i was the resort manager this time and constructed a very big part of the Garden of Eden resort. well, i was looking for fish - and came into a small talk with an local animal dealer at the marked who offered me to bye an Changeable Hawk. as i dont showed any interest in the bird, he brought a box, content: The mysterious mcgregors Pitviper! i was shocked, i was overwhelmed and i was angry with this sales person, in this moment the biggest criminal in my eyes. how could he sale an endangered species like this? in the end, i ended up to become his partner in crime, i supported his wrong doing coz i paid him off and have the animals taken away from him. well, i would not do this today anymore, but i had this wonderful feeling i saved the snakes, a wonderful lie to explain my wrongdoing to myself. i could not know - how this day and my choice to buy this few snakes would change my life forever.
one year later, i was fighting to get my wildlife farm permit. i resigned at the resort and moved up to the mountains around Puerto Galera. the year before i spend all my time (beside my job) to talk to peoples, setting up a network between folks who was interested in reptilians and to build my very first reptile facilities at my place. my wildlife farm permit application was turned down by the government 4 times. but i would not give up - i pushed my luck and become even more aggressive to proof my capabilities to the government. i was giving lectures to law enforcement agencies and was many times speaker on wildlife congresses, wildlife management seminars and hold snake handling courses within the country. one whole year later - i was given the wildlife farm permit and even more, i was holing a certification in my hands, and was from now on a certified wildlife rescue center as well. that was the time i came across another bunch of
Parias mcgregori
as the Monitoring Team at the Airport had confiscated a lot of snakes, most of them venomous. well, as now all folks within the country know of me and our "strange love" for venomous reptiles, they turned over all confiscated snakes, and they still do so till today. again, badly dehydrated and full of endo- and ectoparasites the snakes does not looked so good. but this time - i would fight for them, what ever it might cost. i cant have them dying, not this time, what would everybody think about me, what about our reputation?
Stage 2, conservation:
Make a difference!
since, i have taken in lots and lots of animals here, i have decided to change somethings, help this animals even before the where collected by poacher - before they been smuggled off the island. what to do?
first of all, it was more than necessary to educate local peoples and the local government about the species and her situation in Batanes island (the only place in the world, where
Parias mcgregori
can be found).
therefore, i needed to travel - all the way up to north - to see for myself what磗 going on in Batanes.
shortly after my arrival, i went to Mount Iraya, an (for this moment), inactive Volcano - the only natural Habitat on Batanes, where
Parias mcgregori
can be found. i was, lets say, very shocked how little is the Island and how much smaller even is the site where the snakes can be found!
Mount Iraya - the only natural Habitat left for
Parias mcgregori
!
the findings on batanes was just scary, almost all snakes was gone! even the mount Iraya is protected, poacher still finding a way to get snakes from the island, selling them for few bucks to traders. the other problem was, the island is shaped like northern Ireland, short grass areas, wherever you look. there is no way to find new habitats for the species in batanes.
Batanes island, a view like ireland (one the horizon, Mount Iraya the natural refuge for
Parias mcgregori
)
the habitats found on mount Iraya on the other hand was amazing, lovely very dense primary rain forrest. virgin like. just breath taking. well, there is hope, if the Mountain will be protected there might be a chance for the most beautiful asian pitviper in the world to survive!
natural habitat of
Parias mcgregori
on Batanes, virgin primary rainforest
after getting in contact with the local government, we decided to bring the
P.mcgregori
population to new life. but first, we need to assure the safety for their habitat. it happen that i have done another trip to Batanes. together with guys from the national wildlife agencies i was going back to the island of
Parias mcgregori
, but this time i had somethings special with me, the previously confiscated animals. after one and a half year in my hands, it was finally time to release the snakes back into their natural habitat - back to the island. i was worried a bit, concerned the local peoples would not like us to bring venomous snakes back to their place. with this feeling in my stomach i left Mindoro, early morning - traveling to manila, the snakes well packed, to meet with the folks from the wildlife bureau. next morning was the flight scheduled to Basco, the main city in Batanes. what an surprise after we get out of the airplane! all city mayors of the towns on the island awaited us together with their very own wildlife guys. hawai like flowers around our necks we went directly to the office of the governor Gato. what an greeting committee!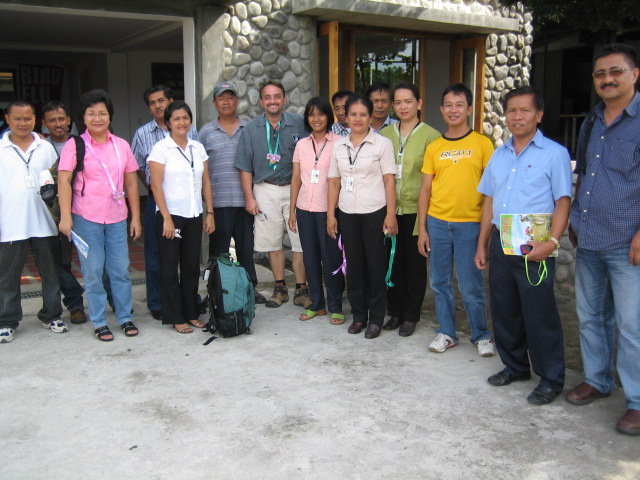 the Batanes welcome committee
after i arrived at the Office of the Governor, we was welcomed by Governor Gato himself. he had done his homework, he knew who i was, he also knew who the others was - what he could not understand was why in the heck we brought this venomous creatures back to his island! well, after one hour of a lovely conversation he was finally finding out, his very special snakes was indeed very important, very important for their eco-tourism program as Batanes now had somethings very unique and somethings that only could be found in Batanes Group of Islands, the Batanes Pit-Viper,
Parias mcgregori
!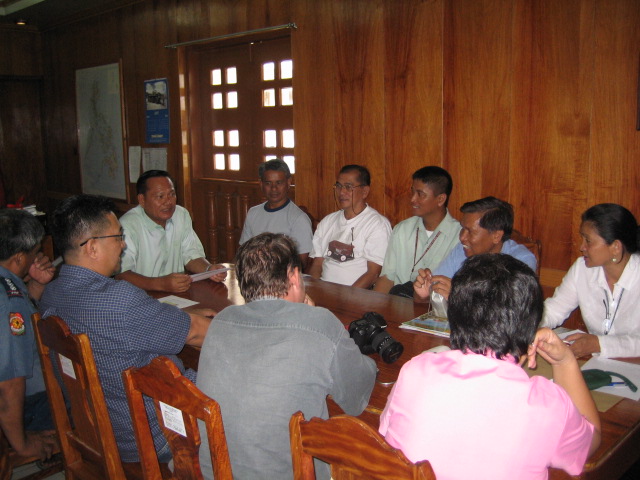 Meeting with Governor Gato and his local representatives for natural resources and wildlife in Batanes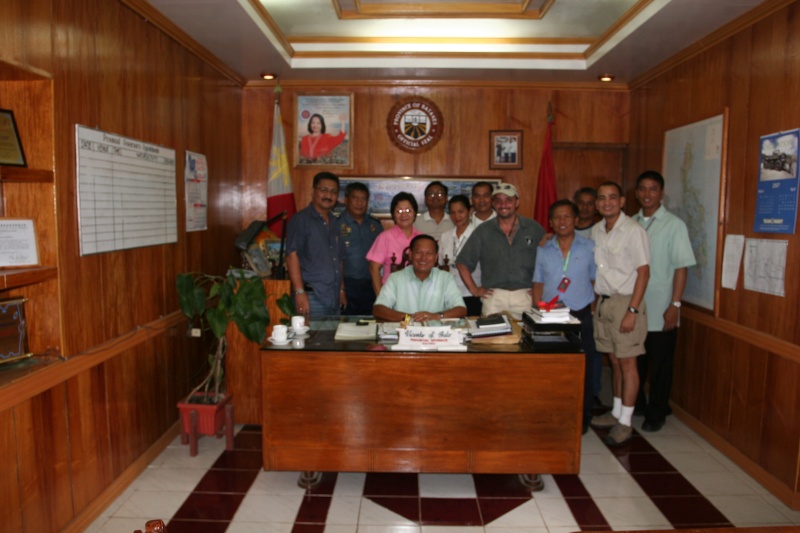 Signing the Memorandum (sorry for the blurry Picture, damn aircons!)
after the meeting with the Governor, we even was able to convince the provincial government to protect mount Iraya and the snakes for the next generations. after signing an Memorandum of Agreement (MOA) to protect the snakes and prevent poachers from smuggling. the Director of the Philippine National Police in Batanes assured us, it will be no mercy anymore for violating the Republic Wildlife Act on Batanes. what an success!
but now it was time to bring the snakes back to the forrest, everybody wanted to join us. well protected by police and other officials, i finally arrived with "my" snakes at the food of Mount Iraya. well, what follows was the walk into the dense forrest.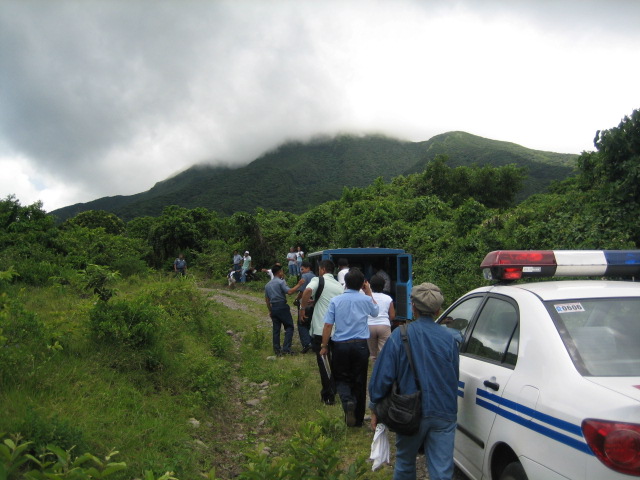 arrival at the food of Mount Iraya.
carrying the snake box thru the jungle is difficult, its easier to smuggle them - nobody then gives a damn if the animals will be packed properly.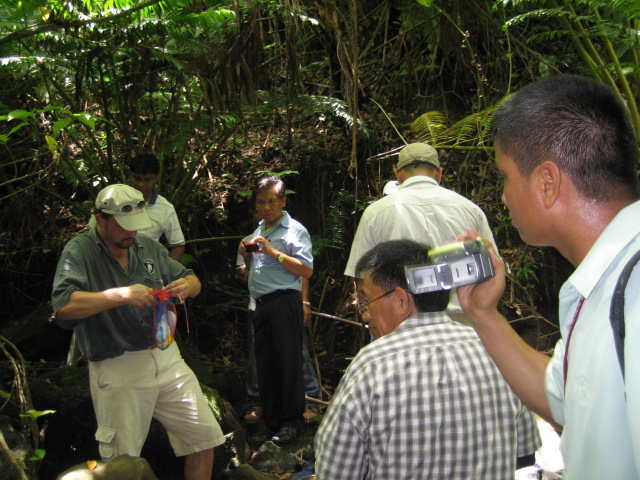 lots of folks went with us to the release site, nobody was scared about the "dangerous snakes" at all
releasing animals back into the wilderness in one of the most rewarding moments you can achieve in your life, at least for me..
all that interest for a box full of venomous snakes - awesome! i loved it.
freedom! lovely, wildborn, smuggled, neglected and now free again!
done! one of my happiest days in my entire life!
well, i am sure, the habitat will be safe for now, but i was also sure i am not yet done. the most challenging part is still to come.
we were granted the permit to start an conservation breeding program. i knew it was磏t to be easy, many folks in the world tried to breed them, so far without success, but i was again sure i would do anything to make it work. two years, intensive studies on Batanes, here at HerpaWorld - close with the animals and always trying to understand what need to be done to become successful- was finally about to become, what i and many others call - the success in conservation and education on wildlife.
Stage 3, breeding:
well, i needed an special facility for
Parias mcgregori
, ok - lets build one! the previously for the Batanes Pit-Viper breeding build snake-house comforts today many other species from all over the world. that was the start of our Zoological Institue here in the Philippines.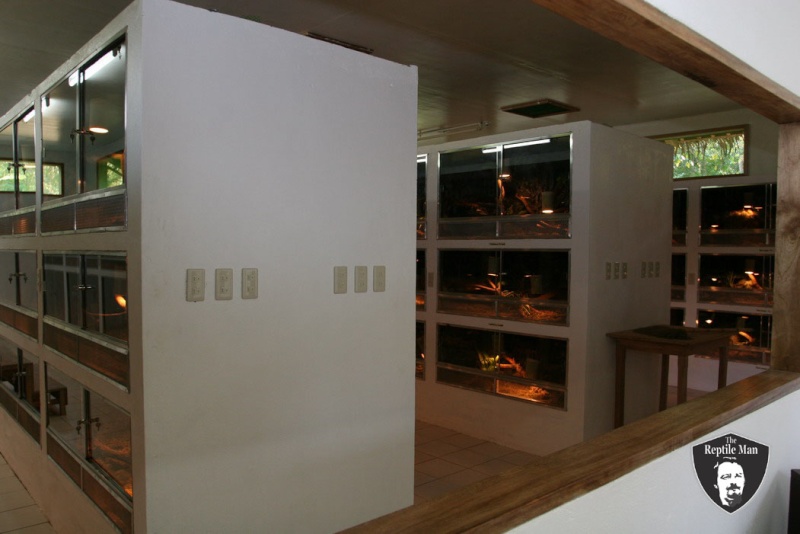 snake house I - build for the conservation breeding program on
Parias mcgregori
.
after many clutches got lost (Parias mcgregori has a very unique habit, she incubates her eggs herself - all tests in incubating the eggs artificially wasnt that successful) finally the success came to me. the first hatchlings was born at herpaworld and i was just the most proud dad you could found on earth.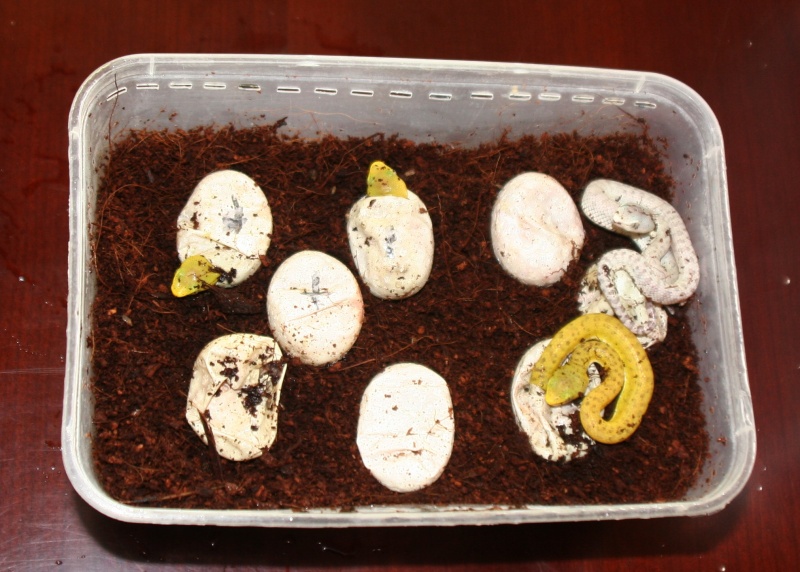 my very first
Parias mcgregor
i hatchlings
and more and more are comming! what a feeling!
meanwhile, we produced more than 300
Parias mcgregori
in captivity and send lots of snakes around the world, to folks we know they will be able to breed them in the future as well. the beginning is done to safe a striking beautiful species for future generations. lets hope, this will be a permanent success story on conservation! i will try my very best, to make sure the
Parias mcgregori
will survive, nout only in captivity but in their nature habitat - on the beautiful Batanes Island! middle in nowhere but in the center of my heard!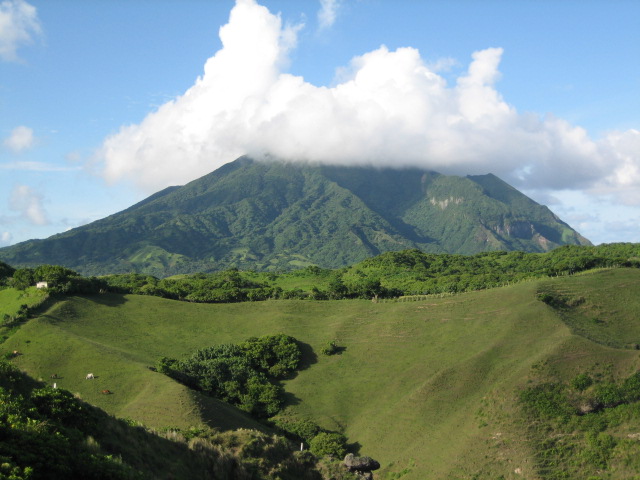 Mount Iraya - Heaven for Pit-Viper Lovers!
cheers
Mario